Pathways Ninja Training
Not your average dojo!
Ninjutsu— The Art of the Ninja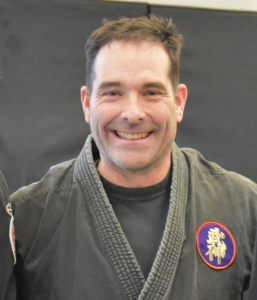 Ninjas are real, and they can be found practicing the art of ninjutsu all across the planet. Ninjutsu is not a "sport" martial art with competitions, but a true self defense art with roots that trace back over a thousand years. Our Pathways Ninja Training (PNT) program was created by Sensei Mark Roemke who holds the title of Dai Shihan and a 15th Dan (degree black belt) in Bujinkan Budo Taijutsu. He is the founder of Pathways Dojo.

Our Unique Approach
We are a white to black belt training program for ages 7 and up. Family members, especially parents/guardians, are encouraged to train alongside the youth. Belt promotions occur every three months. To promote, students are expected to train a minimum of twice weekly, with at least one weekly training session live, in-person with our PNT staff. The second training session may occur at home. We send weekly "home ninja training mission" emails to parents for a 30 minute training session. Students enrolled in our PNT training may attend both live, in-person classes.
Nature Is Our Dojo!
The art of ninjutsu is more than just indoor training on padded floors. Ancient ninjas were masters of the arts of silent movement in nature, tree climbing, fire making, invisibility, sensory awareness training and more. Our curriculum includes monthly home training "ninja missions" that involve nature sensory awareness and survival skills. Students are expected to keep a "ninja notebook" to chronicle these training experiences.

Access to PNT Training Videos
All registered students also receive access to our PNT video series by Sensei Roemke so they can learn the techniques from a true master of the the art in easy to digest step-by-step lessons that follow along with what students learn in the indoor dojo.
Students in our intermediate and advanced classes can also attend the live, weekly online Ninja Training TV classes offered by Sensei Roemke and his staff.
Current Training Offerings
Location: Lincoln, MA (Boston area)
Dates: Enrollment for fall quarter (October-December 2022)
In-person classes: Tuesdays and Wednesdays 5:15-6 pm
Cost: Pilot program discount (Fall 2022) $99/mo.
*NOTE limited enrollment
Because this is the launch of Pathways Dojo's first East Coast program, we are intentionally limiting enrollment for the fall quarter 2022 to only 20 families. If you would like to be placed on the list for early/pre-registration, please complete the short form below. Families that pre-register will be notified for registration opening in advance of the general public.
If you have any questions, please contact us at [email protected]